BlizzCon 2007
BlizzCon 2007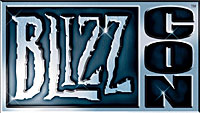 It's hard to put in words the energy that radiated throughout the Anaheim Convention Center that morning when thousands of players walked through the doors of BlizzCon 2007.
Highlights of Day 1
When the next expansion for World of Warcraft was announced -- and especially when the gameplay trailer for Wrath of the Lich King rolled -- the convention hall erupted with cheers.
And that was only the very beginning of an outstanding first day. Huge crowds watched the StarCraft, Warcraft III, and World of Warcraft tournaments, cheering on their favorite players and carefully following every move of every match. To quote one viewer, "I never played StarCraft before, but watching these pros was awesome. It makes me want to be as good as them, so I can be up there on that stage in that soundproofed booth, with the crowd cheering me on. I literally had goose bumps."
Another unique highlight was the developer panels, which covered material ranging from World of Warcraft class design, to the new single-player campaign in StarCraft II, to what it takes to land a job in the game industry. "During the Raids and Dungeons panel, Tigole fielded a lot of tough questions from players, and it was clear [with every answer] that he's really passionate about the game," said one attendee.
But for some, the best thing about BlizzCon was the atmosphere of being in a huge crowd of fellow gamers. "If you can carry on a conversation with a complete stranger that consists almost entirely of 'Whoa, dude, bam!' then you know you're in the right place. It feels great to be here, with a ton of people who all share the same passion. You just have this total connection with everyone here."
These were just a few quick snapshots of day one at BlizzCon, but we hope this short glimpse can give you some idea of the incredible energy that permeated the event, thanks to everyone who shared their passion for games with us.
Highlights of Day 2
Enthusiasm and excitement filled the Anaheim Convention Center as the attendees filed in that morning, eager to get to any exhibits they might have missed yesterday. Huge crowds amassed in the StarCraft II and Wrath of the Lich King hands-on gaming areas. Others flocked to the jousting pit to do a little real-life PvP or to the Elekk ring to try their hand at staying on the back of the mechanical Elekk.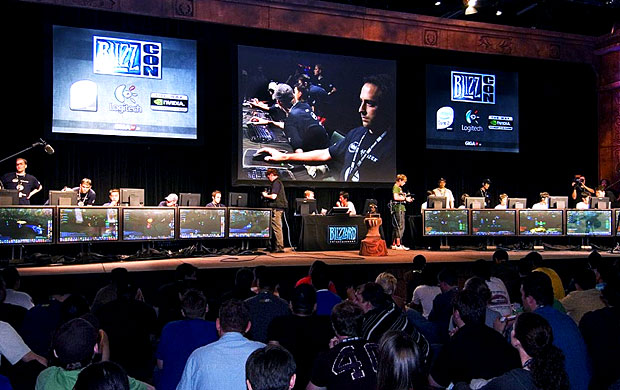 The developer discussion panels were again one of the big highlights of day. Players took advantage of these opportunities to learn more about nearly every aspect of World of Warcraft and StarCraft II, as well as to have their questions answered by members of the different teams at Blizzard. At the World of Warcraft Items and Professions panel, the development team discussed their plans for the Inscription profession and for professions in Wrath of the Lich King in general, which generated a fair amount of applause from the crowd. At the Warcraft Movie panel, representatives from both Blizzard and Legendary Pictures provided some information concerning the moviemaking process and the challenges of bringing the Warcraft game universe to the big screen... and at the end, the audience was treated to a piece of movie-storyboard art depicting Teldrassil.
Throughout the day, players could also explore the World of Warcraft Trading Card Game, not only in a dedicated discussion panel, but in a variety of demos and tournaments. Veteran TCG players offered advice on deck building and general strategies, while tournament winners walked away with prizes ranging from TCG booster packs to brand-new console gaming systems. Speaking of tournaments, the Warcraft III, World of Warcraft, and StarCraft tournaments all wrapped up that day. With all of these events drawing to an end, attendees retired to their rooms to prepare for the night's closing celebration featuring Jay Mohr, Level 70 Elite Tauren Chieftain, and Video Games Live.
Blizzard players came from all over the world to attend BlizzCon, and with so many together in one place, the atmosphere was been beyond words. Though many have just met each other for the first time in person this weekend, their common passion for gaming has offered a basis for lasting friendships.