News
Winners of Diablo's Burning Hells Contest
6 September 2011
Three lucky Diablo III fans can look forward to joining the upcoming Diablo III beta test. They won us over with photos of themselves taking on Diablo himself as he emerged from his fiery realm. Check out the winning pictures!
Gamescom 2011 in Full Swing!
20 August 2011
Since Thursday, countless visitors to gamescom 2011 took the chance to pass by our booth located in Hall 6.1, B21-C30. For dropping by, they were greatly rewarded -- and not just with goodies! On Friday, the participants of our Dance Contest were showing some amazing and interesting renditions of the World of Warcraft dance moves. Congratulations to Ronja Otto, who was chosen as the winner by our jury for her female Goblin performance. Also congratulations are in order for our other winners Matthias Regge and Andy Martin for their demonstrations of the male Goblin dance.

Today, our show stage was transformed into a shimmering world of the celebrities from World of Warcraft, StarCraft, and Diablo in the form of the participants in our costume contest. Congratulations to Laura Birnbaum, aka Sylvanas Windrunner. She will be able to enjoy her trip to Blizzcon 2011. Congratulations also to Christiane Lennartz as Tyrande Whisperwind and Sophie Marot as formidable female Barbarian in Heavy Armor from Diablo III. Our audience was especially enthusiastic when famous Pylo the Pylon entered our stage as well.

In our StarCraft II Showmatches the best and most well-known players battled it out. Famous names like Killer, Select, MC, Dimaga, Moonglade, and Tarson started a fireworks extravaganza of crackling games. And, we're not done yet! Looking ahead, we are awaiting some thrilling live raids with the guilds Ensidia and For the Horde as well as more StarCraft II Showmatches and panels with our developers.

If you are in Cologne, you should definitely pass by Hahnentorburg Rudolfplatz before Sunday evening to see the gate to Diablo's Burning Hells and take a picture while there to join in our Social Media Contest and get the chance to win access to a beta of one of our upcoming games.

We want to thank all the participants in our contests and, of course, all the enthusiastic players who visited us at our booth. We are looking forward to welcoming more of you here in hall 6.1, B21-C30 at gamescom 2011 before the show ends tomorrow evening.
Diablo III Street Art Unveiled
18 August 2011
As part of Blizzard Entertainment's presence at gamescom 2011, artist Manfred Stader has created a bespoke piece of Diablo III street art. The image depicts Diablo accompanied by demons bursting forth from the very streets of Cologne. What's unique about the image, aside from the content, is that it has been designed to be viewed in full 3D perspective. As a result, it produces an unnerving glimpse into The Burning Hells themselves.

The artist began production of this very special piece on Monday August 15, and the scope of the project has been encapsulated in this time-lapse video of its development.

All gamescom attendees are encouraged to come and see this spectacle, situated at Hahnentorburg Rudolfplatz in central Cologne.

Don't forget we have also organised a competition based on your photographs of this artwork – you can find details about that here.

Enjoy – and take care not to fall in!
Gamescom 2011 Has Started!
18 August 2011
Do you want to be among the first in Europe to get your hands on the upcoming StarCraft II: Heart of the Swarm expansion? Want to play Diablo III or World of Warcraft: Cataclysm? Then come and join us at gamescom 2011 at the Blizzard Entertainment booth (Hall 6.1, B21-C30) in Cologne, Germany! Also, be sure to stop by Rudolfplatz and snap a photo so you can take part in our our Diablo III Social Media contest.

At this year's gamescom, the contests are epic and the prizes are out of sight. Show off your sewing skills in our Costume Contest and you could win a trip to BlizzCon 2011! Or join our StarCraft II Show Matches, World of Warcraft Live Raids, Quiz Contests, or the Dance contest and win prizes from our sponsors! If that isn't enough to get you going, then check out our panel schedule to see when you can get a chance to participate in panels with our StarCraft, World of Warcraft, and Diablo developers. You can have a look at our on-going activities during gamescom in our activities section.

Whether you can make it to the event or not, be sure to follow our live coverage of gamescom 2011 on our game channels on Facebook and Twitter.
Diablo's Burning Hells contest: Win Access to the Beta for one of our Upcoming Games
17 August 2011
Attention gamescom goers: a portal to Diablo's Burning Hells has been sighted at Rudolfplatz in Cologne! To celebrate this terrifying development, Blizzard is giving those witnessing the event a chance to win access to the beta phase for one of our upcoming games.

If you are in Cologne and wish to participate, please follow these simple instructions:
Head over to Rudolfplatz, next to the Hahnentor. (map link).
Gather up the courage to stand on the brink of the portal and have a friend take a picture of you. Make sure you put on your bravest face to confront Diablo!
On Twitter, post a link to the image with the hashtag #D3GC11, and an "@reply" to our @Diablo account.
Members of the Blizzard community team will look over the posted pictures during the weeks following gamescom and pick the best ones. Please consider following the @Diablo account so Blizzard can get in touch with you via direct message in case you're one of the lucky winners.

For all the details on the contest, please read the rules available here.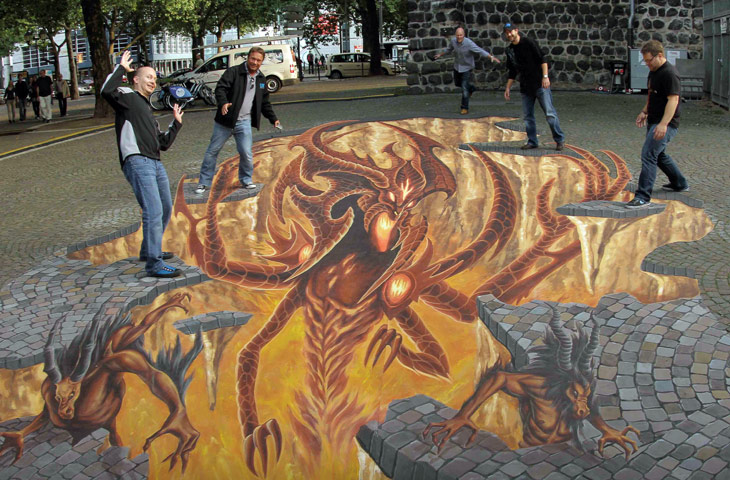 Street Art at the Rudolfplatz in Cologne
Blizzard activities at gamescom 2011
11 August 2011
It's only a few days until gamescom! Are you eager to meet Blizzard developers and executives? Excited to watch some of the best players in the world compete in StarCraft II show matches or take down the most challenging bosses in live raids? Or maybe your inner star wants to shine in a costume or dance contest?

Find out about all these activities and many more on our activities page, which was just updated with all the latest details.

You can also find a printable version of the Blizzard booth activity schedule right here.
StarCraft II showmatch players confirmed for gamescom 2011
11 August 2011
Attendees of the Cologne games event will witness some monumental confrontations as Blizzard Entertainment confirms the competitors for its StarCraft II showmatches.

From South Korea, Lee Jung Hoon (aka MarineKing) will be showing off his natural prowess with the Terrans while countrymen Shin Sang Ho (Killer) and Lee Ho Joon (PuMa) will both be defending their hard won reputations earned within the Global StarCraft II League.

Additionally - as part of the six nations represented across the battlefields during these matches - Andrew Prender (mOOnGLaDe) will be flying the antipodean standard on behalf of Australia. Meanwhile, Greg Fields (IdrA) will display his globe-trotting skills with the Zerg before returning to the USA.

Three other players from within the European homelands surrounding gamescom will also be present to delight eSports and games fans alike. Fresh from the European Battle.net Invitational, Tomasz Boroń (Tarson) will be representing Poland, while Ukranian Dmytro Filipchuk (Dimaga) plans for another Zerg driven victory. And last, but by no means least, the winner of six eSport world championships, Manuel Schenkuizen (Grubby) will be warming up the warp gates on behalf of both the Protoss and The Netherlands.

Beyond these valiant combatants, there's also the added draw of renown German shoutcaster Sebastian "HomerJ" Schenck, who will be the master of ceremonies for all the on-screen action.

The matches themselves will take place on the Blizzard stand (located at Hall 6.1/B21). They will not be streamed – so each contest is your 'only chance to see' – and they are scheduled accordingly:
Thursday 18th August – 13:30-15:00, 18:00-19:30
Friday 19th August – 10:30-12:00, 14:00-15:30, 18:00-19:30
Saturday 20th August – 10:30-12:00, 18:00-19:30 and finally...
Sunday 21st August – 10:30-12:00 and 16:00-17:30.
Dance Contest at gamescom 2011!
2 August 2011
Get ready to bust a move and dazzle the audience: Blizzard's famed dance contest will make a return at gamescom this year! Enter, and you could win some great prizes.

If you wish to apply for pre-registration for this contest, send an email with the subject [dance contest] to us at gamescom2011@blizzard.com, including your name, date of birth and the details of the dance you will be performing. Head over to our gamescom 2011 gamescom 2011 activities section for more details on the dance contest, as well as the costume contest announced last week.
Win a BlizzCon Trip With Our Costume Contest!
29 July 2011
Get your sewing machines ready, dust off your patterns, and equip your pauldrons for the Blizzard Costume Contest at gamescom! The winner of the Costume Contest will win a trip for two to BlizzCon, including tickets, transport and hotel accommodation. This fantastic prize is sponsored by our partners SteelSeries, J!NX, and Panini.

To sign up for this contest, send an email with the subject [costume contest] to us at gamescom2011@blizzard.com, including your name, date of birth, and the name or brief description of the Blizzard-related costume you will be entering. Head over to our gamescom 2011 activities section for more details.
Fun and Games at gamescom 2011
13 July 2011
Surely you've heard the news by now: Blizzard Entertainment will be at gamescom 2011 in Cologne, Germany, from August 17 to 21, and we've got a whole host of fun and games waiting for you.

You are an eSports fan? Come and enjoy the StarCraft II show matches, featuring some of the best players on the planet. Want to witness top guilds' abilities and precision? For the Horde and Ensidia will confront the latest dangers to threaten Azeroth in World of Warcraft Live Raids.

If that's not enough to satisfy your insatiable appetite for entertainment then make sure to take part in our activities and show the gamescom 2011 audience your talent.
Become your character and show off your style in the Blizzard costume contest! Terran, goblin, zerg or worgen. Mage, zealot, warrior or overlord. Your imagination is the only limit!
Choose a World of Warcraft race, put on your dancing shoes, and prepare to dazzle the audience as you show us your moves. That's right, it's the Blizzard dance contest!
Prove your knowledge of the Blizzard Entertainment universes! Enter our daily quizzes to receive your well-deserved rewards.
To apply for entry into the dance and costume contests you simply need to send us an email at gamescom2011@blizzard.com. If you are selected to participate we will let you know. We expect a lot of competitors for both contests, so make sure you contact us as soon as possible to have a shot at winning some amazing prizes! All the details regarding the dance and costume contests' rules and prizes will be posted in an upcoming news post.

So, are you ready to take to the stage and dance and dress your way to victory?
Play Blizzard Games at gamescom
7 July 2011
The biggest games convention on Earth takes place in Cologne, Germany from August 18 to 21, and Blizzard Entertainment will be there in force. Not only will we have showmatches, live raids, competitions and entertainment, we'll also have a trio of great games available for visitors to play.

At this year's gamescom we'll be showcasing World of Warcraft: Cataclysm, Diablo III and – playable for the first time in Europe – StarCraft II: Heart of the Swarm. Don't miss this unique opportunity to go hands-on with these three games, win prizes, and cheer on StarCraft II pro gamers and expert World of Warcraft raid teams. Come visit us in Hall 6.1 (B21 & C30). For more information, visit the official site!
Join us at gamescom
24 June 2011
Blizzard Entertainment is delighted to confirm our presence at gamescom 2011 where you'll be treated to a wide range of activities and entertainment.[more] Play our games, watch StarCraft II eSports showmatches, witness the precision of top guilds in live World of Warcraft raids, catch up on the latest company news and partake in our famous dance and costume competitions – polish those routines and get stitching now!

All of this will be happening from August 17 to 21 at the Koelnmesse in Cologne, Germany, and you'll be able to locate the Blizzard Entertainment booth in Halle 6.1 (B21 & B1). To find out more about the show and how to get there, visit the official site!