BlizzCon 2008
BlizzCon 2008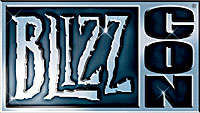 The first day of BlizzCon came to a close with Jay Mohr hosting another awesomely epic evening of contests, costumes, dances, and /silly one-liners. Here are some of the day's highlights:
Highlights of Day 1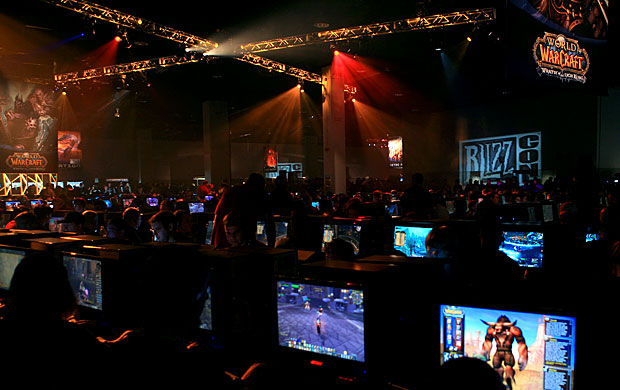 Diablo III's Wizard Unveiled: During the opening ceremony, Blizzard Entertainment CEO and cofounder Mike Morhaime unveiled Diablo III's third playable class -- the wizard. Afterward, the Diablo III team took the stage to go into detail about the class's powers and abilities.
Hands-on Gaming: In Hall B, players were able to get their hands on Diablo III for the first time ever, delving into the dark catacombs beneath Tristram cathedral (alongside three fellow attendees) as the barbarian, witch doctor, and wizard, slaying demons, collecting loot, and -- in the end -- coming face-to-skull with a familiar foe from the original Diablo: the Skeleton King.
In the StarCraft II gameplay area, attendees got a chance to try several new multiplayer maps, including a reimagined version of a StarCraft favorite, Lost Temple. Folks also got to experiment with a few of the latest units and special powers, including the protoss mothership's new enemy-incapacitating vortex ability and the terran nighthawk's seismic thumper, which slows down foes and prevents zerg units from burrowing underground. StarCraft enthusiasts also received a special surprise in their goody bags -- a beta key that will grant access to the upcoming StarCraft II beta when it begins.
Even though the release of Wrath of the Lich King is just around the corner, World of Warcraft players lined up to play the most up-to-date version of the game, questing across Northrend, delving with fellow attendees into brand-new dungeons, trying their hands at tanking with a death knight, and discovering the surprises the all-new Achievement system had to offer.
StarCraft II Single-Player News: BlizzCon 2008 attendees were the first to hear some big news about the single-player campaign: The epic story of StarCraft II will span a trilogy of games, with each one's single-player campaign focusing on a different race.
World of Warcraft, StarCraft II, and Diablo III Panels: Throughout the day, BlizzCon attendees got a chance to sit with developers to discuss the classes, gameplay, art, and creative process of Blizzard Entertainment games. Panels included Diablo III Class Design, StarCraft II Gameplay, World of Warcraft Classes, and more.
Highlights of Day 2
On the second day of BlizzCon 2008, attendees experienced epic Warcraft III, StarCraft, and World of Warcraft Arena tournaments; informative developer panels covering everything from the art of Diablo III to the lore of StarCraft II to raid dungeons in Wrath of the Lich King; and tons of other fun activities. Here's a recap of the day's events.
Pro Players Prove Their Prowess: Crowds gathered, cheered, and gasped at the intense competition in the final matches of the 2008 StarCraft Invitational, Warcraft III Global Finals, and World of Warcraft Arena Global Finals on two separate tournament stages.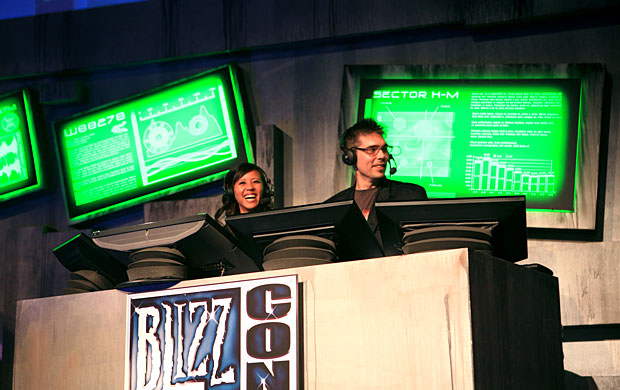 For the Lore! Saturday turned out to be a treat for Blizzard Entertainment lore lovers, with Blizzard's storytellers taking the stage for StarCraft II Lore and Diablo III Lore and Art panels.
Points of Interest: In between panels and tournament matches, BlizzCon attendees exploring the show floor discovered tons of activities and distractions. Folks who found themselves in Upper Deck's Darkmoon Faire were able to play World of Warcraft-themed carnival games, participate in World of Warcraft Trading Card Game tournaments, get a sneak peek at the World of Warcraft Miniatures Game -- and even walk away with miniatures of their own. Showgoers were also able to soak up some Blizzard Entertainment history at the art gallery and retro arcade (featuring The Lost Vikings, Blackthorne, and other blasts from the past), don the helm of the Lich King and wield Frostmourne at a replica of the Frozen Throne, meet the cast and creators of the web-based comedy series The Guild, and more.
BlizzCon Contest Galleries: On Friday night, Jay Mohr returned to BlizzCon to host another epic evening of Costume, Dance, and /Silly contests. The main hall was completely packed with attendees who wanted to witness all the dancing ogres, Tyraels, turtle-mount-riding draenei, and detailed recreations of World of Warcraft raid and PVP armor sets.
Finally, BlizzCon 2008 came to its conclusion with the closing ceremony featuring Patton Oswalt, Level 80 Elite Tauren Chieftain, and Video Games Live.